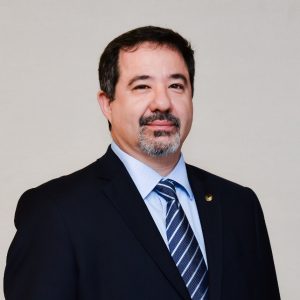 Tuğrul U. Daim
Tugrul U Daim is a Professor and the Director of the Technology Management Doctoral Program in the Maseeh College of Engineering and Computer Science at Portland State University. He is also the Director of the Research Group on Infrastructure and Technology Management. He is a Faculty Fellow at the Institute for Sustainable Solutions.
US Department of Energy, National Science Foundation, National Cooperative Highway Research Program, and many other regional, national and international organizations have funded his research. He has published over 200 refereed papers in journals and conference proceedings. He edited more than 20 special issues in journals. He edited more than 20 books and conference proceedings. He was the adviser for 11 PhD graduates who are now in leading positions in government, industry and academia.
He is the incoming Editor-in-Chief of IEEE Transactions on Engineering Management. He has been at various editorial roles in journals including International Journal of Innovation and Technology Management, Technological Forecasting and Social Change, Technology in Society, Foresight, Journal of Knowledge Economy and International Journal of Innovation and Entrepreneurship.
Prior to joining PSU, he had worked at Intel Corporation for over a decade in varying management roles. At Intel he managed product and technology development. During his tenure at PSU, he has acted as a Strategic Consultant to the Chief Technology Innovation Officer of Bonneville Power Administration a part of US Department of Energy. He helped develop regional and national technology roadmaps in the energy sector. He also consulted to many other international, national and regional organizations including Elsevier, Biotronik, NEEA, Energy Trust of Oregon, EPRI, ETRI, Koc Holding, Arcelik, Tofas, Ford Otosan, Kirlangic, Siemens, Mark and Spencer, and Castrol.
He is also a visiting professor with the Northern Institute of Technology at Technical University of Hamburg, Harburg. He has given keynotes and distinguished speaker lectures at conferences, companies, universities and research centers around the world including Iamot, Euromot, Samsung, Helmut Schmidt University, Kuhne Logistics University, Seoul National University, Bogazici University, Koc University, University of Gaziantep, Izmir Institute of Technology, University of Pretoria, Tampere University of Technology, STEPI, EPIC at UNCC,
He was given the Research Publication Award by the International Association of Management of Technology (IAMOT) and Fellow Award by the Portland International Center for Management of Engineering and Technology (PICMET) both in 2014.
Dr. Daim was the President of Omega  Rho, International Honor Society in Operations Research and Management Science between the years of 2014 and 2016.
He received his BS in Mechanical Engineering from Bogazici University in Turkey, MS in Mechanical Engineering from Lehigh University in Pennsylvania, MS in Engineering Management from Portland State University, and PhD in Systems Science: Engineering Management from Portland State University in Portland Oregon.

---
Evaluating and Planning Technologies through Multiple Perspectives
In an era where technology acquisition has become a necessity for the survival of any type of organization, selecting the right technology is even much more critical. Evaluation of technologies should not be taken lightly. Many organizations in the past failed to recognize the multiple perspectives and had to yield to technically inferior competitors. These multiple perspectives are technical, economic, environmental, social and political. This talk will review technology evaluation research and practice in sectors ranging from energy to healthcare.